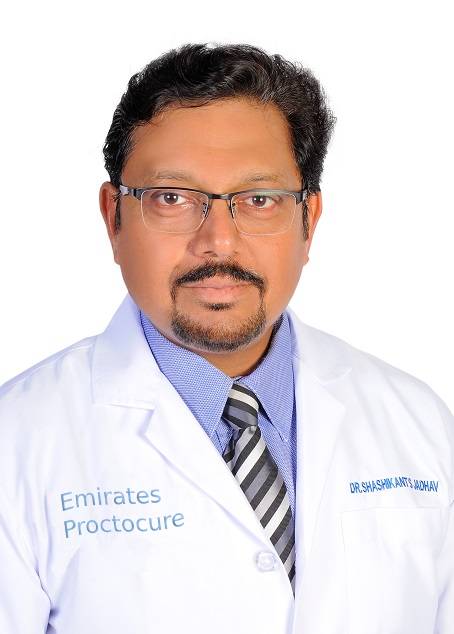 SPECIALIST GENERAL SURGEON, COLOPROCTOLOGY & VASCULAR
F.MAS (fellow of minimal access surgery)
F.I.S.C.P (fellow of international society of coloproctology)
Dr. Shashikant has Performed more than 25,000 surgeries in past 20 years including minor, major & laparoscopic surgeries.
Experienced in Advanced Laser Solutions and Novel Surgeries for Common Ano-Rectal Disorders & Varicose Veins.
He underwent training in Advanced Varicose Vein Laser treatment at the World famous Whiteley Clinic London  under the guidance of Prof. Mark Whiteley.
More than 20 years of work experience in the leading hospitals of DUBAI, like MEDICLINIC WELCARE HOSPITAL, PRIME HOSPITAL, EMIRATES HOSPITAL,SAUDI GERMAN HOSPITAL-DUBAI, INTERNATIONAL MODERN HOSPITAL-DUBAI.
Special Interests
HYBRID  SURGERY ( FGHAL +LASER  )   FOR HEMORRHOIDS.

MINIMALLY INVASIVE ENDOSCOPIC LASER SURGERY FOR PILOINIDAL SINUS (E.P.Si.T)

Laser (DLPL,  FiLAC,) LIFT, SLOFT , Sphincter saving surgeries for Complex Anal Fistulas.

Proctoplasty and Laser techniques for  Anal & Rectal prolapse.

Ultrasound Guided Endovenous laser treatment ( EVLT)  for varicose veins and Perforator veins

Foam micro sclerotherapy for Spider & Reticular  veins .

Diode &  Nd:YAG Laser for spider & Reticular veins.

Ultrasound guided biopsies for Breast and thyroid Tumors.

Breast Lumpectomies and mastectomies for Benign and malignant Breast diseases.

Various Hernia Surgeries.

Surgeries for Varicocele and Hydrocele.

Excision biopsies for skin cancers, lipomas, sebaceous cysts , Dermoid cysts  , lymph nodes , etc.

Diagnosis  of Anorectal disorders by Proctoscopy & Flexible video sigmoidoscopy.

Laparoscopic surgery for Appendix  & Gallbladder stones.
Memberships
Life time member of International society of Coloproctology
Member of Emirates Medical Association
Member of Deccan Surgical Society
Member of Indian Medical association