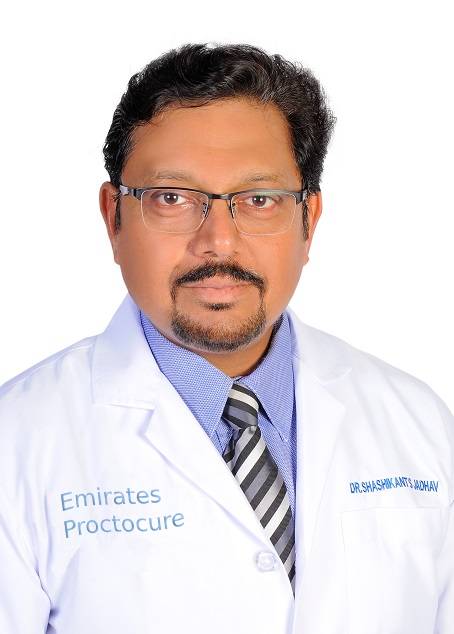 SPECIALIST GENERAL SURGEON, COLOPROCTOLOGY & VASCULAR
F.MAS (fellow of minimal access surgery)
F.I.S.C.P (fellow of international society of coloproctology)
Dr. Shashikant has Performed more than 25,000 surgeries in past 20 years including minor, major & laparoscopic surgeries.
Experienced in Advanced Laser Solutions and Novel Surgeries for Common Ano-Rectal Disorders & Varicose Veins.
He underwent training in Advanced Varicose Vein Laser treatment at the World famous Whiteley Clinic London  under the guidance of Prof. Mark Whiteley.
More than 20 years of work experience in the leading hospitals of DUBAI, like MEDICLINIC WELCARE HOSPITAL, PRIME HOSPITAL, EMIRATES HOSPITAL,SAUDI GERMAN HOSPITAL-DUBAI, INTERNATIONAL MODERN HOSPITAL-DUBAI.
Points of interest in surgical practice: Haemorrhoids (Laser Hemorrhoidoplasty, HAL-RAR, Milligan Morgan), Anal Fistula Treatment (VAAFT, DLPL, LIFT, SLOFT, FISTULOTOMY), Perianal Abscesses, Varicose Vein Treatment ( EVLT, VENASEAL, SCLEROTHERAPY, LASER) ANAL FISSURE
PILONIDAL SINUS (EPSiT, Laser, Rhomboid Flap) Exploratory Laparotomies, Closure of D.U. Perforation, Intestinal Resection Anastomosis, Hemi-Colectomies, Appendectomies, Hernia Repair, Breast Lumpectomies, Modified Radical Mastectomies, Thyroidectomies, Hydrocele, Varicocele, Laparoscopic (Appendectomy, Cholecystectomy, Adhesiolysis & Groin Hernia repairs), Rigid and Flexible Sigmoidoscopy.
Memberships
Life time member of International society of Coloproctology
Member of Emirates Medical Association
Member of Deccan Surgical Society
Member of Indian Medical association