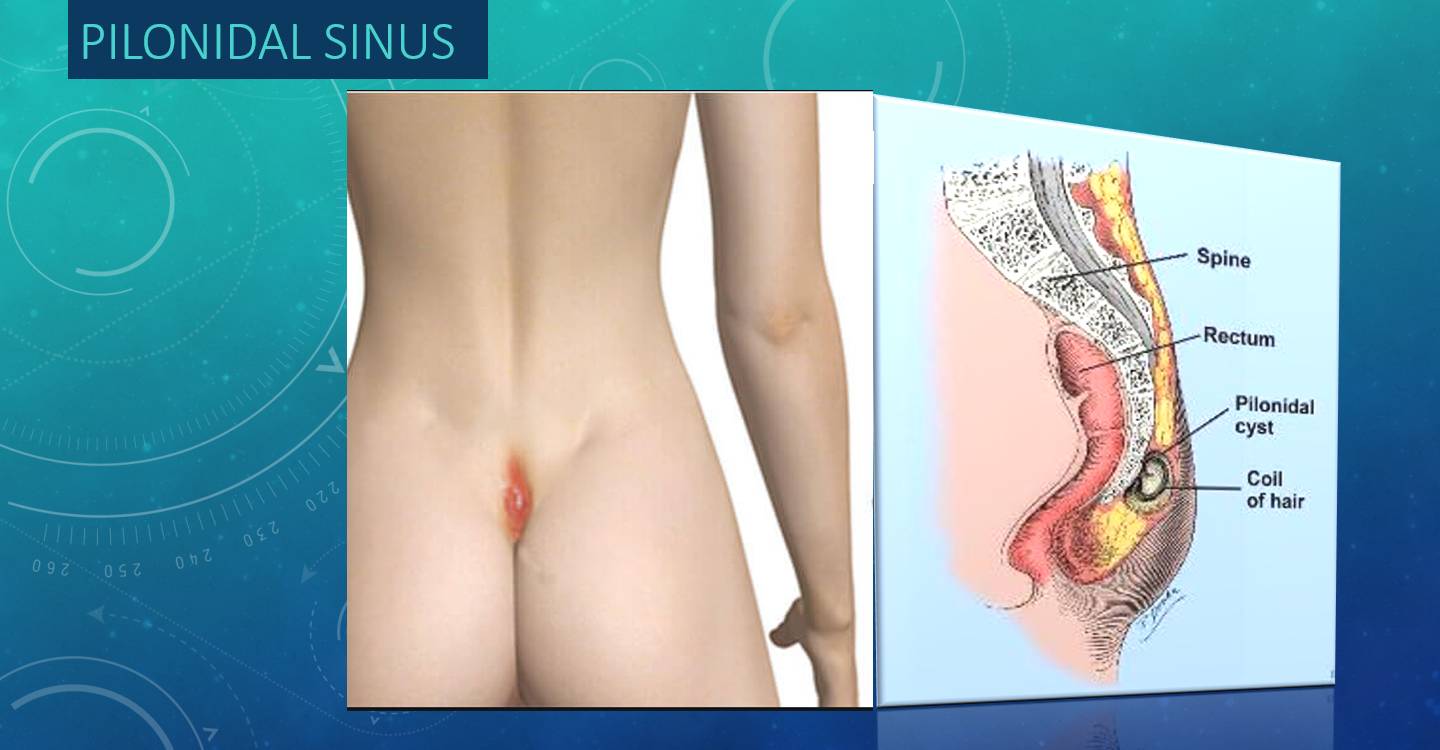 "NOW PERMANENT CURE POSSIBLE WITH MINIMALLY INVASIVE LASER THERAPY  & EPsit"

What is a PILONIDAL SINUS or Cyst?
Pilonidal disease was originally described by Herbert Mayo in 1833.
The  Latin pilus, meaning "hair," and nidus, meaning "nest."
So it is a nest of hair in the deeper tissues of lower back in the upper part of inter-gluteal fold which  plays a central role in the pathogenesis of this disease. The incidence of disease is approximately 26 per 100,000 population  and is more common in Young hirsute men.  
What are the risk factors to develop this condition?
First of all it is an Acquired condition .Two most important factors which play the role is 1) Hairy body  &  2) Deep gluteal  cleft. Other risk factors include obesity, local trauma, sedentary lifestyle, and family history.
Hairs become detached from the skin of the back and behave like darts. It is speculated that the cleft creates a suction that draws hair into the midline pits of moist skin when a patient is  sittting  as well as due to action of  rubbing of the gluteal skin with each other during movements . These ingrown hairs act like a foreign body , and form a pseudo cyst with infection and abscess formation.
How do I know whether I am suffering from this condition?
Pilonidal sinus disease in acute stage presents as a painful fluctuant swelling  or foul smelling draining infected sinus or openings in  the midline of gluteal cleft. 
The pain and swelling might subside after the pus has drained out or after a course of antibiotics .
The same process usually  repeats after a pause of few days. 
It can also present as chronic persistent discharging sinuses in the midline of inter-gluteal fold. Keen Observer can also notice tufts of hair protruding out of the sinus openings( 'Pits') . 
I advise the patients to get examined by our experts .  
Very rarely the pilonidal sinus might be associated with a complex anal fistula . Hence in suspected cases  our  Surgeon will perform a digital rectal examination  plus diagnostic Anoscopy in the clinic .
Socioeconomic impact of the disease
Because pilonidal disease is a debilitating illness, causing daily discomfort , limiting activity  & affecting  people in their most productive years, the socioeconomic effect of the disease is great . This is because patients spend significant amount of time away from school or work.
How to get my PILONIDAL sinus infection treated?
Seek early advice from an experienced surgeon. In an acute stage it must be drained as early as possible before pressure builds inside it and gets complicated 
The abscess can be drained under local anesthesia ,as an office based procedure or under a short general anesthesia  in a daycare setting if the patient is  apprehensive . This is followed by a short course of antibiotics and in 80% of cases this leads to cure . The surrounding skin should be shaved weekly to prevent the reintroduction of hair.
PILONIDAL ABSCESS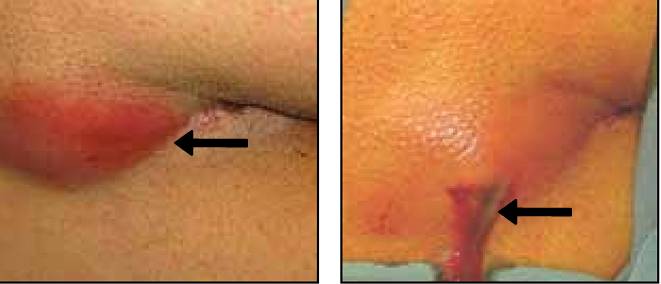 "However the infection recurs in the remaining cases after few weeks and leads to chronic discharging openings known as sinuses (shown below) which form branching tubes deep to the skin".
CHRONIC PILONIDAL SINUS WITH MIDLINE PITS AND DEEP TRACTS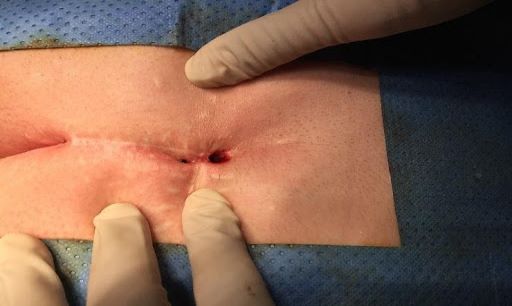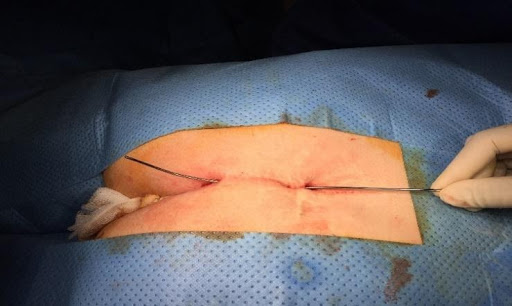 SURGICAL MANAGEMENT OF CHRONIC PILONIDAL SINUS DISEASE
Traditional surgery involved wide excision of the infected tissues with either primary closure or keeping the wound open  allowing slow natural  healing. 
This involves  few days hospitalization, limitation of day to day activities, 2 weeks absence from work and daily painful dressings till the wound healing , which happens in 3 weeks approximately.
Figure: Large unhealed wound 6 months after wide excision and attempted midline closure in a 19 years old male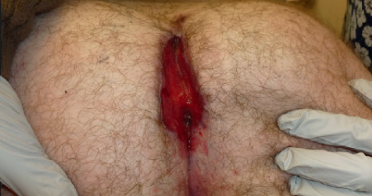 HAIR REMOVED FROM DEPTH OF PILONIDAL SINUS
However this surgery does not guarantee permanent cure and recurrence happens in 10% of cases.
In patients with recurrent disease who have undergone multiple prior surgical interventions, flap-based procedures, such as a V-Y advancement flap, rhomboid flap, Z-plasty, Bascom cleft lift repair, or Karydakis flap, may be beneficial.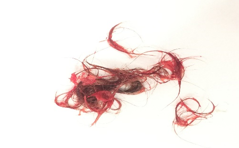 BASCOM CLEFT LIFT REPAIR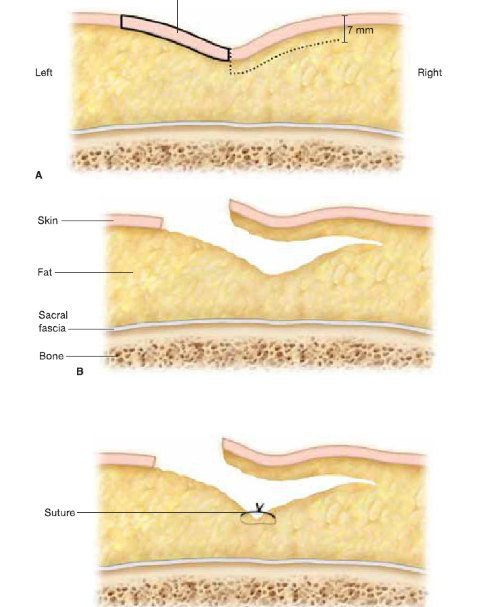 The BASCOM cleft lift repair has been very popular.This surgery removes all the infected tissues , provides off-midline closure , and obliterates the deep gluteal cleft as well.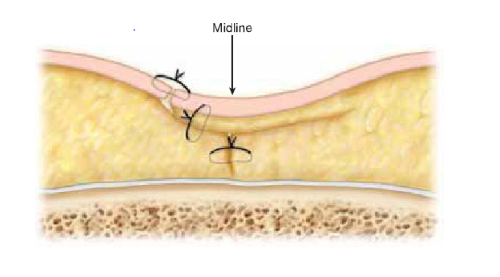 Potential surgical site complications include wound dehiscence 4%, flap necrosis 0-2 %, hematoma 1%, wound infection 3-5% and seroma 3%. Recurrence is seen in approximately 4 %. However the surgery itself is well tolerated with minimal post operative pain and early resumption of activities.
NOVEL MINIMALLY INVASIVE PROCEDURES FOR CURE OF PILONIDAL SINUS DISEASE.
EPSiT - Endoscopic Pilonidal Sinus Treatment & LASER.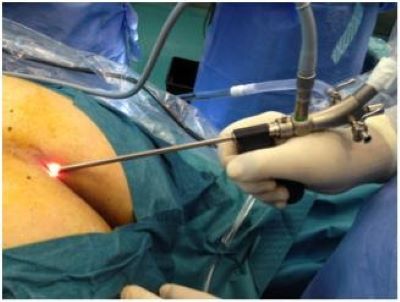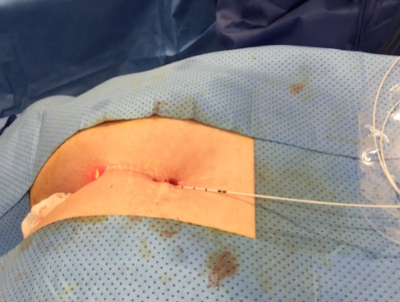 Invented by Piercarlo Meinero MD, the EPSiT procedure is a new video-assisted technique for the treatment of the pilonidal sinus disease and its recurrences.
Direct vision using a fistuloscope allows the surgeon to see perfectly not only the pilonidal sinus, but also any possible fistula tracts or abscess cavities. The destruction can be modulated and there is the certainty of the complete removal of the infected area. 
In our clinic , We have added LASER to EPSit which guarantees very high success rates. 
The aesthetic result is excellent  , it is painless procedure, and the patient's quality of life is better compared with traditional techniques. There is no need for painful dressings and healing occurs within two to three weeks. The EPSiT procedure is performed in day surgery (the patient is admitted and discharged the same day of surgery). He can resume his work the very next day.
Till date we have cured hundreds of  cases with Pilonidal sinus disease by this novel technique combined with LASER .
DOES  A CANCER DEVELOP IN PILONIDAL SINUS?
Yes. There is a rare chance of squamous cell cancer developing in long standing pilonidal sinus disease. Cancer is confirmed by biopsy and needs wide local excision down to the sacrococcygeal fascia. . A large flap is usually required to close the defect. Adjuvant chemotherapy or radiation
therapy should be guided by the pathologic features and the general recommendations for squamous cell carcinoma.
FOR FURTHER ADVICE  & TREATMENT OPTIONS KINDLY CONSULT OUR TEAM OF DEDICATED SURGEONS.