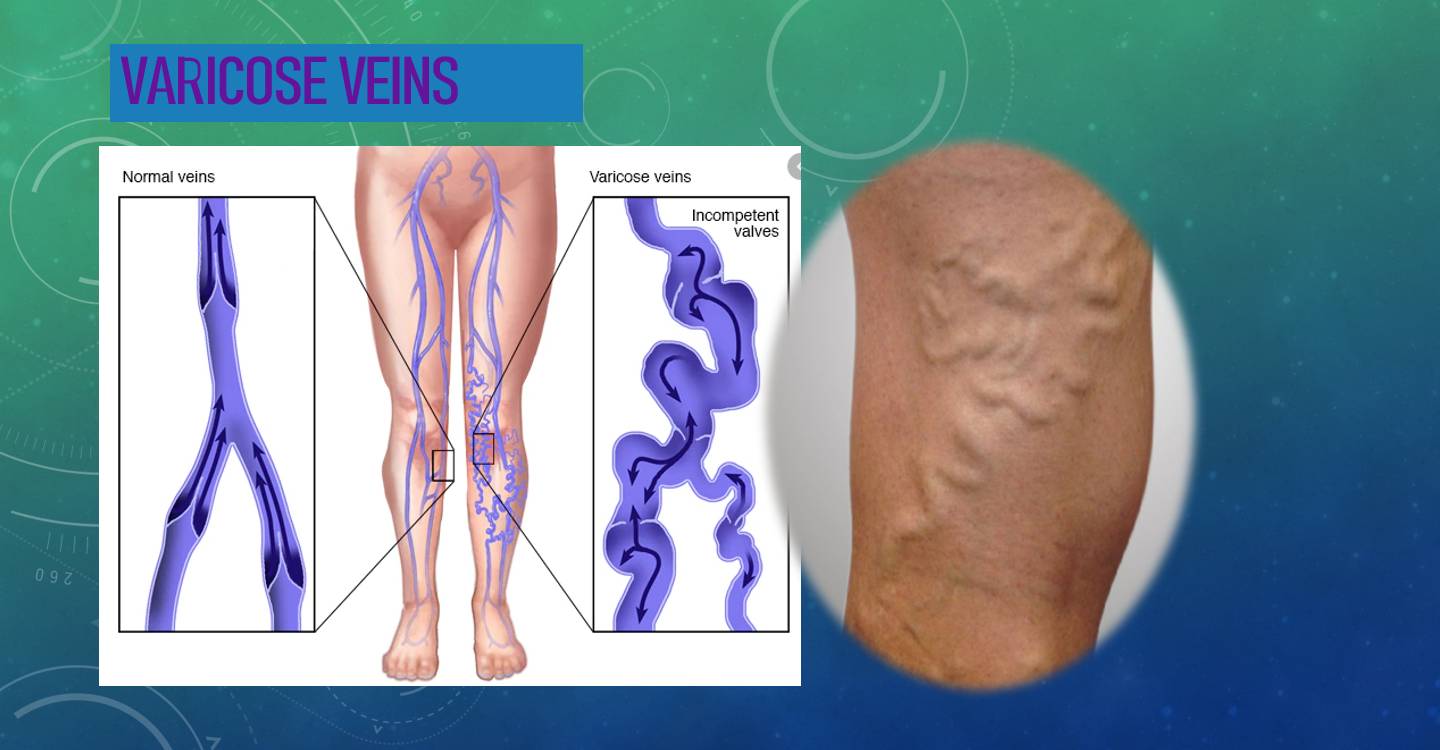 'Now permanent cure possible in our Clinic without open surgery, by "ENDOVENOUS ABLATION TECHNIQUES" and Sclerotherapy  performed under local anesthesia'.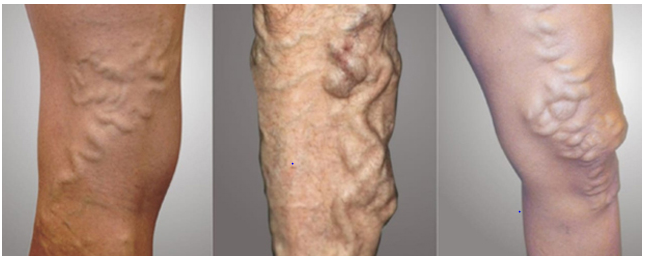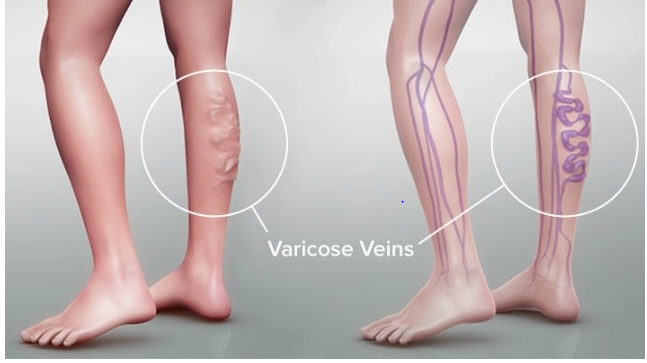 What are Varicose veins? 
Varicose veins are  subcutaneous dilated veins 3 mm or larger in diameter. They are frequently elongated and tortuous,with intermittent 'blowouts', but are defined by presence of Reflux. 
Up to 40% of the adult population in resource-rich countries have diseases of the veins of the leg.
Why does a person develop Varicose veins?
Varicose veins develop as a result of venous insufficiency .
There are three categories of venous insufficiency—congenital, primary, and secondary.
Congenital venous insufficiency is rare and is due to  anatomic variants that are present at birth. Examples are  venous ectasias, absence of venous valves, and syndromes such as Klippel-Trénaunay syndrome.
Primary venous insufficiency is  acquired in life This is the largest clinical category and represents most of the superficial venous insufficiency encountered in the office. The varicose veins develop in certain occupations involving prolonged standing,   for example. Teachers.
Secondary venous insufficiency arises from obstruction of the deep veins due to thrombus. 
In both primary and secondary venous insufficiency the valves inside the veins malfunction as shown in the picture below.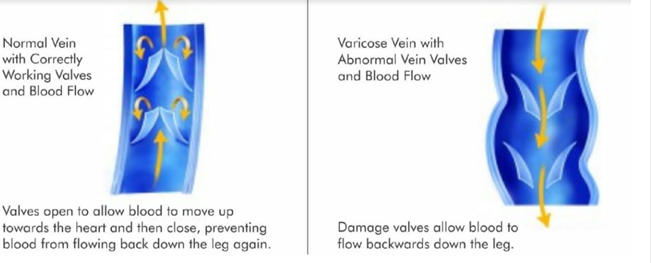 What are the risk factors for development of varicose veins?
Risk factors for the development of varicose veins include advancing age, female gender (Harmonal factors), multiparity, heredity, and history of trauma to the extremity. Additional risk factors include obesity and a positive family history.
What are the complaints in patients suffering from varicose veins?
Patients with varicose veins may complain of unsightly appearance on the legs , aching, heaviness, itchiness, and early tiredness of the affected leg. These symptoms worsen with prolonged standing and sitting and are relieved by elevation of the leg above the level of the heart. A mild amount of swelling  is often present.
More severe disease presents as skin colour changes, inflammation of veins known as thrombophlebitis, development of non-healing ulcers over the lower leg, and bleeding from blowout of  veins .
What are other variants of varicose veins due to venous insufficiency of the leg?
Telangiectasia (thread veins, spider veins, and hyphen webs): represent tiny intradermal venules less than 1 mm in  diameter .
Reticular vein: small dilated 'bluish' subdermal vein 1–2.9 mm in diameter, usually tortuous.
Saphena varix is a (usually painless) groin swelling apparent on standing.
Corona phlebectatica (malleolar flare): a fan-shaped pattern of telangiectasia on the ankle or foot. It is thought to be an early sign of advanced venous disease.
WHAT ARE THE COMPLICATIONS OF VARICOSE VEINS?
Varicose veins without treatment will progress to develop complications like skin pigmentation and thickening (Lipodermatosclerosis),  bruising of the skin with minor trauma or spontaneous bleeding, formation of painful clots in the veins with redness of the skin (superficial thrombophlebitis), non-healing ulcer of the lower leg (varicose ulcer), Deep vein thrombosis (Blood clots in deeper veins) which may lead to a life threatening condition called Pulmonary embolism if the blood clot gets detached and enters the lung circulation.
How do we diagnose the condition of Varicose vein?
Varicose veins are diagnosed in the  clinic by our experts. Though most of the varicosities are diagnosed  on clinical examination, diagnostic tools like non -invasive 
Color Doppler ultrasound  and vein light are essential to demonstrate the reflux and mapping of the veins at fault. These examinations will help to choose  the  most suitable treatment modalities. 
Does medical insurance cover treatment for Varicose veins? 
For symptomatic varicose veins with a significant reflux demonstrated by Duplex scanning and supported by a well documented report, we almost always get approval to go ahead with the treatment.
However since telangiectasia and reticular veins are considered more a cosmetic concern, most of the medical insurances do not cover these conditions.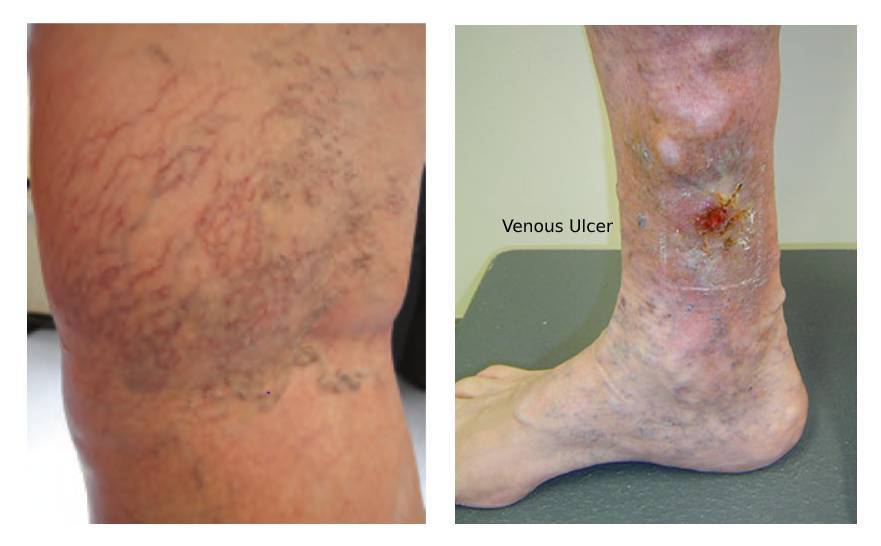 Telangiectasia and reticular veins (left) Venous Ulcer (right)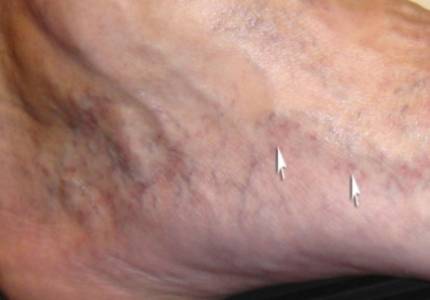 Ankle Flare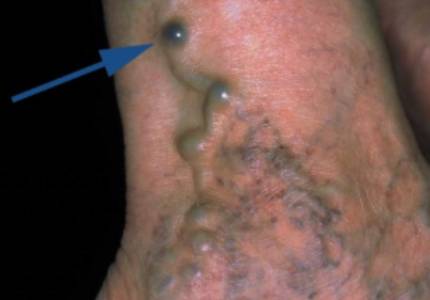 Blow-out Phenomenon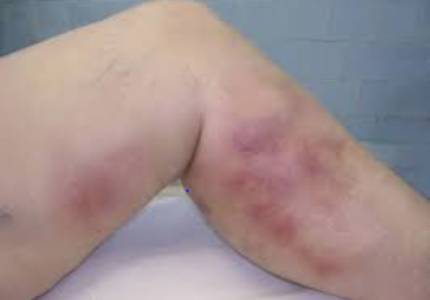 Superficial Thrombophlebitis
HOW TO GET RID OF LARGE TORTUOUS VARICOSE VEINS?
Firstly I advise the patients to consult our experts so he can perform a full examination of the leg vasculature using advanced DUPLEX SCAN  which will demonstrate the veins at fault . A vein light examination will also be done if the concern is for spider veins and reticular veins.  This will help to customize the treatment for every individual.
For varicose veins with demonstrable reflux, we advise our patients to undergo ENDOVENOUS ABLATION  by following procedures. 
1.  CYANOACRYLATE GLUE ABLATION
OR
2. ENDOVENOUS LASER ABLATION

Vein 'Glue' or Medical Adhesives Closure
The use of cyanoacrylate in the treatment of varicose veins has now become established following initial trials which started about ten years ago.
Whole procedure is carried out under Doppler ultrasound imaging for maximum safety.
Glue is inserted through a small catheter which is passed up inside a refluxing saphenous vein which is responsible for causing the varicose veins lower down the leg.  As the catheter is withdrawn the glue is injected inside the vein. The vein is immediately sealed due to adhesion of the vein walls. Low grade inflammation over the ensuing weeks leads to fibrosis and permanent occlusion of the vein. Over time the glue is broken down and dissolved.
Terms used to describe the use of glue to treat varicose veins include
Endovenous adhesive ablation (EAA)
Cyanoacrylate adhesive ablation (CAA)
Cyanoacrylate embolization (CAE)
Advantages
High degree of safety. Theoretically no risk of injury to nerves or arteries or lymphatics.
Minimal discomfort. Just one injection of local anaesthetic for insertion of the catheter.
Relatively quick procedure.
No compression stockings. Walk straight out and resume normal activities.
Next to no discomfort following the procedure (except inflammation on occasions)
Success rates equivalent to endovenous thermal ablation (Laser and Radiofrequency).
Disadvantages
Not suitable for treatment of surface veins spider veins and reticular veins.
 Glue can't be extended out to treat tributary varicose veins extending from the saphenous trunk. Glue only treats underlying refluxing veins such as incompetent saphenous veins which are the cause of superficial varicose veins. The same limitations as Endovenous laser ablation which is discussed later
Inflammation (phlebitis) can sometimes occur.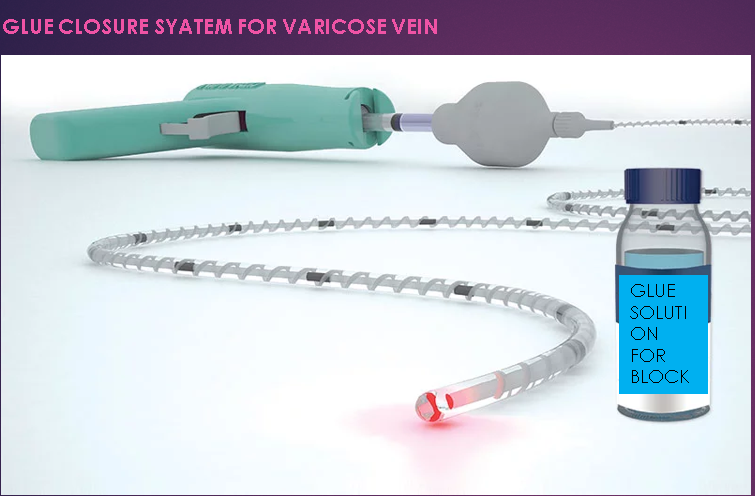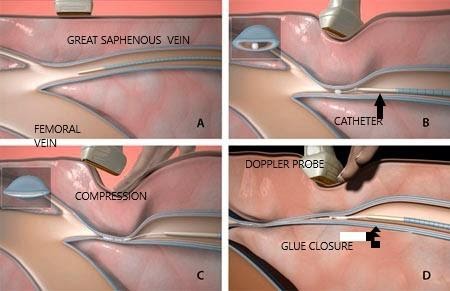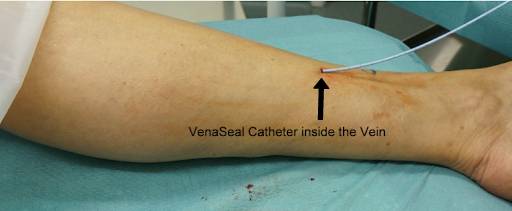 CONSERVATIVE TREATMENT METHODS
In demonstrable venous reflux, conservative treatment provides only symptomatic relief  without any chances of permanent cure.
The two most common conservative treatment followed are :
VENOTONIC DRUGS   (example : diosmin+hesperidin)
VARICOSE VEIN STOCKINGS . Class 2 or class 3 stockings which produce an external pressure of 20-30 mmHg  or 30-40 mmHg respectively.

VARICOSE VEIN STOCKINGS
ENDOVENOUS LASER ABLATION (EVLA)
A tiny LASER fibre is inserted in the affected vein under local or spinal anesthesia by minimally invasive approach . The whole procedure is done under ultrasound guidance .  
The laser is activated and the fibre slowly pulled out. Laser energy  closes down the vein by destruction of its  inner lining.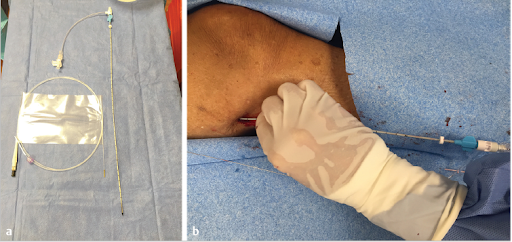 Endovenous laser treatment is especially recommended in very large caliber varicose veins as compared to GLUE treatment.
RELATIVE CONTRAINDICATIONS FOR EVLA:
PREGNANCY or  NURSING
OBSTRUCTED DEEP VEIN SYSTEM
ALLERGY TO LOCAL ANESTHETIC
SEVERE COAGULOPATHY
INABILITY TO WEAR COMPRESSION STOCKINGS
INABILITY TO ANBULATE AFTER THE PROCEDURE
WHAT COMPLICATIONS CAN HAPPEN AFTER THE EVLA?
Though complications are rare and  self-limited after EVLA,  they are worth mentioning Paresthesia (5%)  due to thermal damage to the nerve accompanying the vein.
Pain, Bruising of skin, hematoma, phlebitis are common adverse events.
WHAT IS RADIOFREQUENCY ABLATION OF VARICOSE VEINS ?    
RFA is another method of thermal ablation method for varicose veins which utilizes an electromagnetic current , instead of laser to produce the thermal energy.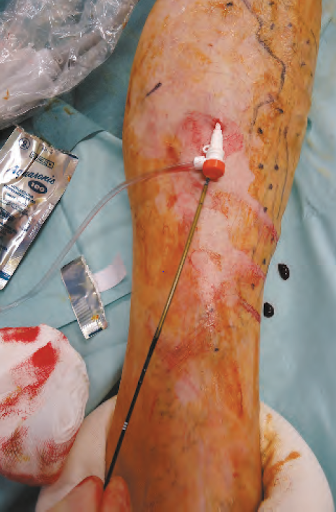 ENDOVENOUS THERMAL ABLATION ( both EVLA & RFA)  as well as  GLUE closure have become the gold standard for treatment of varicose veins affecting the long saphenous and short saphenous veins since the procedures are done by minimally invasive approach , under local or regional anesthesia , with no down time and early return to work.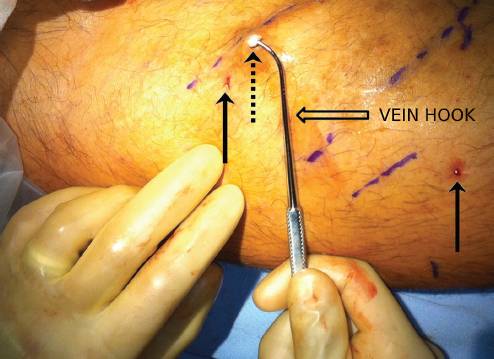 Ambulatory Phlebectomy
Hook phlebectomy has remained the mainstay of treatment for tributary vein varicosities.
The procedure involves careful marking of prominent superficial veins preoperatively with the patient in the standing position.
During surgery, micro-incisions are placed over the veins and the vein is delivered through the skin using an Oesch hook. The varicose veins are then segmentally avulsed.
The micro wounds heal very well without scar formation.
Endovenous Laser treatment of Varicose veins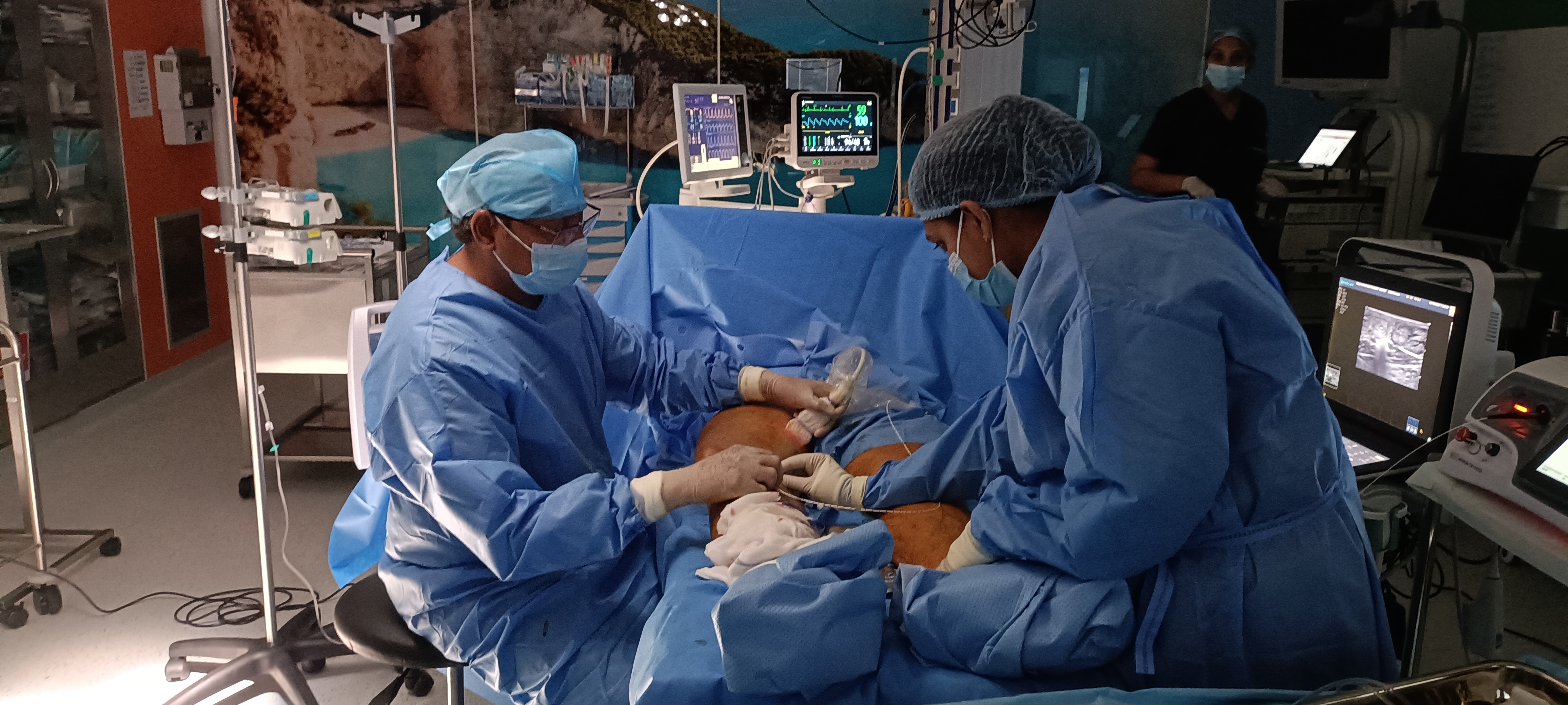 Spider Veins . Noninvasive painless cure by NdYAG Laser